By now, many of us must have seen commercials for the 5 Hour Energy Shot Drink. The makers of 5-Hour Energy are advertising like crazy these days.If you haven't seen the commercials yet, take a look.

The latest ones I saw were obviously targeted towards working professionals.  Many of us are familiar with the "2:30 feeling" that 5-Hour Energy seems to address.
Before anyone decides to consume some chemical concoction like this, it's probably a good idea for them to research the possible side effects to the ingredients in 5 Hour Energy Shot.
Let's first see what the ingredients in 5 Hour Energy Drinkare: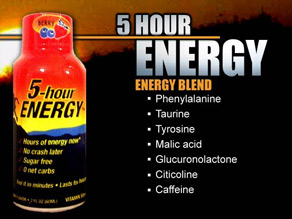 Straight from the 5 hour energy website:
Vitamin B6

Vitamin B12

Niacin (Vitamin B3)

Folic Acid (Vitamin B9)

Citicoline

Tyrosine

Phenylalanine

Taurine

Malic Acid

Glucuronolactone

Caffeine
The large quantities of B vitamins are not a concern because according to their site, the "vitamins are water-soluble which means that which is not absorbed by the body is simply expelled with no toxic effects."
So that leaves us to question the ingredients in their energy blend.
Through my research, I found this video clip that a local news station did about the safety and side effects of 5 Hour Energy Drink.  The conclusion is that for the most part, 5 Hour Energy is generally considered safe in moderation except in what they consider "high levels", which is 12 shots a day or more!
Take a look at what they had to say and feel free to share your own experiences with 5 Hour Energy!